Anglo American Plc, one of the world's biggest mining companies, is shrinking to a fraction of its former size to cope with the collapse in commodity prices.
The company is selling assets, closing mines and will eventually employ 50,000 people, compared with 135,000 now, Chief Executive Officer Mark Cutifani said on a conference call with reporters Tuesday, without giving a time frame. Anglo also scrapped its dividend for the second half of this year and for 2016. The shares plunged 12 percent, the biggest drop since 2009.
"Anglo can take out its high-cost production and restructure all it wants, but essentially its fortunes don't change until resource prices go up," said Wayne McCurrie, who helps manage 170 billion rand ($11.6 billion) at Momentum Wealth in South Africa. "It was inevitable that they were going to cut the dividend."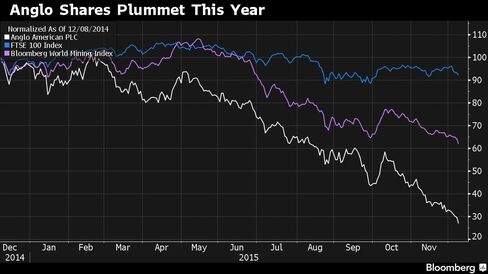 Cutifani is seeking to keep the company afloat with metal prices showing no signs of a recovery from the lowest levels in six years. Years of increased output from miners have created global surpluses just as slower economic growth from China erodes demand. While there have been some production cuts, the rout has deepened because miners are still supplying more metal than is needed around the world.
Shrinking Anglo
After the restructuring, Anglo will be much smaller. It will control 20 to 25 assets split across three divisions of its De Beers diamond unit, industrial metals and bulk commodities, Cutifani said. The company currently has about 55 assets. The focus will be on its so-called tier-one assets, which are competitive at low commodity prices.
Anglo had previously announced that it would cut its workforce to about 100,000 next year.
The stock fell 12 percent to a record low of 323.65 pence in London, giving the company a market value of $6.3 billion. The shares have plunged 69 percent this year, the second-biggest decline in the U.K.'s FTSE 100 Index.
Asset Sales
The last time Anglo's cut its dividend was in 2009 during the depths of the global financial crisis. The company reduced spending forecasts for 2015 to 2017 by $2.9 billion and increased the amount it plans to raise from asset sales to $4 billion from $3 billion, with its phosphates and niobium businesses confirmed for disposal. Impairments are expected to be $3.7 billion to $4.7 billion because of weak prices and asset closures.
"We've gone another step further and obviously with the market the way it is, with the recent reductions, we think we have to be more aggressive," Cutifani said.
At current spot prices, the company does not meet the criteria for an investment-grade credit rating, said Rene Medori, the chief financial officer. Any downgrade would not impact the cost of financing or the way Anglo runs its business, he said, adding that the company has no plans to tap shareholders for more money.
Anglo's statement sparked a retreat across the mining industry. Glencore Plc, BHP Billiton Ltd. and Rio Tinto Group sank more than 5 percent. Kumba Iron Ore Ltd., which is 70 percent owned by Anglo, tumbled 8.6 percent. The FTSE 350 Mining Index fell 7.1 percent.