THE PROOF
Sunday night gold will be up strongly and by the end of the week gold will be over $1500
So tomorrow will be the last day to add on or take an initial positon in G&S.
My main problem to solve was would the XI-Trump meeting be a success–it won't be a dramatic failure–Trump is not going to throw a banana creme pie in XIs' face and storm out–there will be. some B.S. joint statement that will sound O.K. but accomplish nothing–they will agree to keep negociating–how do I know this?
From the action in bonds mainly…secondarily from the dollar and stocks…I got further confirmation for what. I was suspecting from this article=
 Bonds & Stocks Bid On 'Bad' Macro/Trade News
Clearly unacceptable China pre-conditions for a trade-deal and ugly consumption and housing data was just what the doctor ordered for a buying spree in stocks today (presumably because the worse things get fundamentally or geopolitically, the closer The Fed gets to delivering its 50bps "insurance" cut in July)… what a bloody joke!
So before we start, there's this… "Soft" data has collapsed (Kansas Fed joins a long list today) catching down to "hard" data's dismal level
s
…
And that bad news sparked a dovish push in market expectations for The Fed…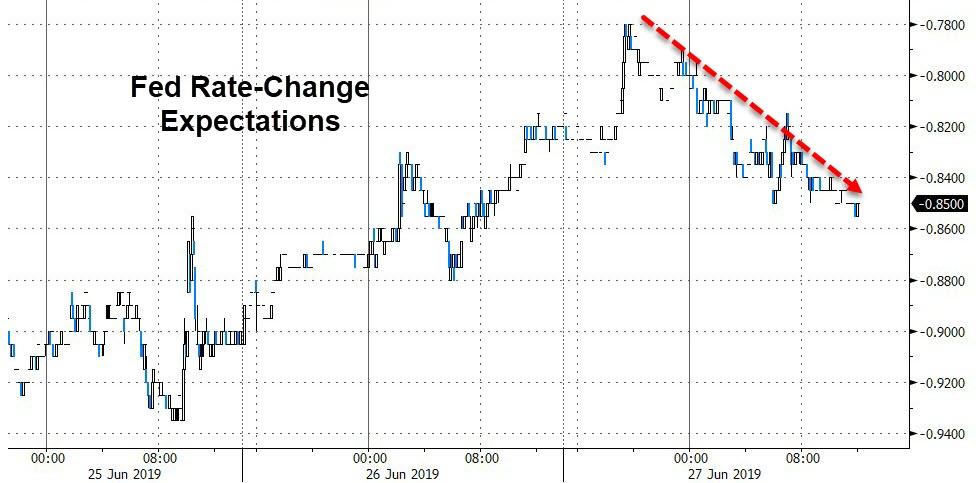 Which was all that was needed to bid bonds and stocks higher on the day
…
Treasury yields tumbled on the day with the long-end outperforming…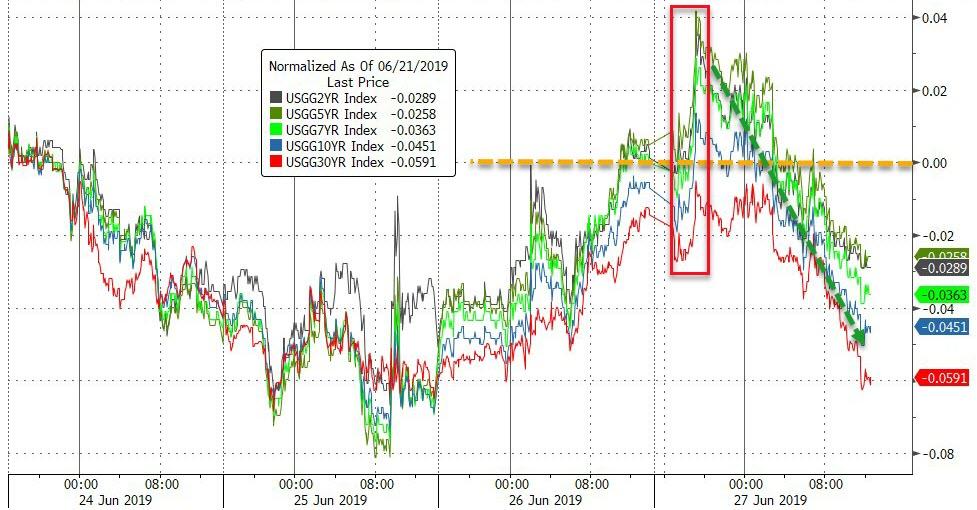 Spot Gold briefly dipped below $1400, but was bid at that level…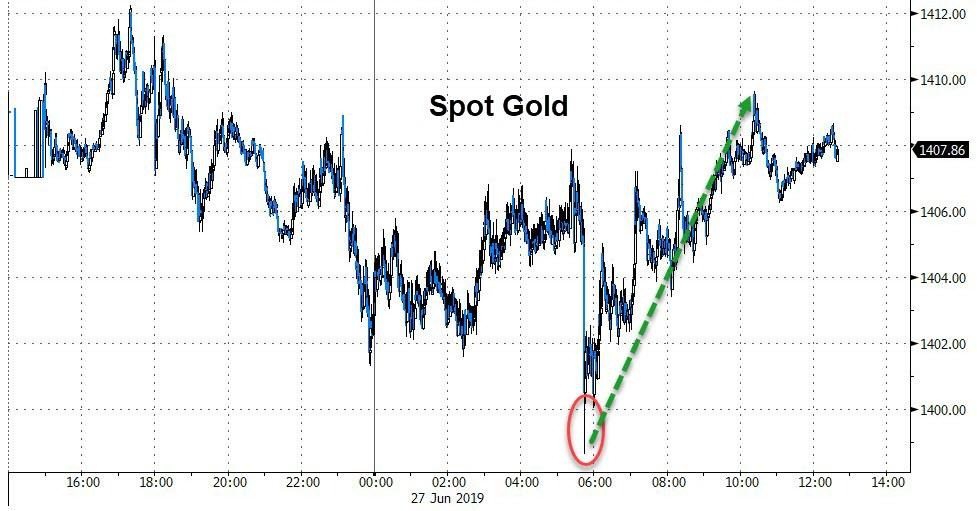 Finally, as Bloomberg's Ye Xie notes, the collapse in regional Fed surveys leaves the stock market vulnerable.  With the Kansas City Manufacturing Activity Index posting a reading of zero, all five regional Fed surveys of business activity deteriorated this month. That points to the risk that the ISM manufacturing index next week may fall below 50, the dividing line between growth and contraction.
BOTTOM line=all the above guarantees that the rate cut/zero bound regime will still be in effect—NOTHING else is as important for gold—and that will support. higher gold—the worst outcome would be a great trade deal because that might cause the FED to retract their rate cut policy–