Someone is not telling the truth – The Fed once again last week increased the size of both the overnight and "term" repo operations. Starting Thursday (Oct 24th) the overnight repos were increased from $75 billion to "at least" $120 billion and the term repos (2 week term) of "at least" $35 billion were extended to the end of November, with two "at least $45 billion" term repos thrown in for good measure. The Fed is also outright printing helicopter money for the banks at a rate of $60 billion per month (via "T-bill POMOs).
At the height of the last QE/money printing cycle, the Fed was doing $75 billion per month. So whatever the problem is behind the curtain, it's already as large or larger than the 2008 crisis..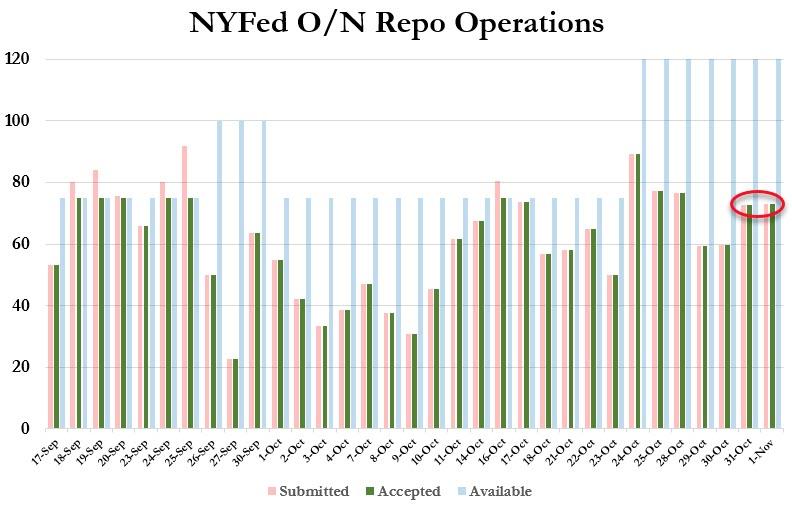 That escalated quickly – When the repo operations started in September, the Fed attributed the need to "relieve funding pressures." At the time the public was fed the fairytale that corporations were pulling funds from money market funds to pay quarter-end taxes. Well, we're over five weeks past that event and the repo operations have escalated in size and duration three times. Someone is not telling the truth…
The rapid increase in Fed money printing in just five weeks reflects serious problems developing in the global financial system. Actually, the problem is easy to identify: 
At every cohort – government, corporate and household – the level of debt has become unsustainable, with not insignificant portions of that debt in non-performing status (seriously delinquent or in default). 
Thus, the Central Banks have had to resort to money printing to help the banks manage the rising level of distress on their balance sheet and to monetize the escalating rate of Treasury debt issuance.
The quote at the beginning is from the former head of the Bank of England, Mervyn King. King is warning that the global financial system is headed toward a crisis and that money printing ultimately won't save it.  While it's pretty obvious that a disaster waits on the horizon, when the former head of a big Central Bank delivers a message like that instead of Orwellian gobbledygook, the world should pay heed.  I would suggest that the Fed's money printing signals that the risk of a crisis intensifies weekly.
https://www.zerohedge.com/commodities/sleepwalking-toward-crisis-got-gold