Kevin Clinesmith is a former FBI lawyer expected to be accused of altering an email that was used to justify a court's wiretap approval into Carter Page, a former advisor for Donald Trump. He's also the author of anti-Trump and anti-Mike Pence texts that resulted in his leaving the Russia investigation. You can read those texts throughout this article. One of the more memorable ones declared, "Viva le resistance."
Clinesmith may be referred for criminal charges as a result, The Times previously reported. On August 14, the Times reported, via three sources, that Clinesmith, a "former F.B.I. lawyer," intends "to plead guilty to falsifying a document as part of a deal with prosecutors conducting their own criminal inquiry of the Russia investigation." According to The Times, Clinesmith "plans to admit that he altered an email from the C.I.A. that investigators relied on to seek renewed court permission in 2017 for a secret wiretap on the former Trump campaign adviser Carter Page, who had at times provided information to the spy agency."
The New York Times reported on November 22, 2019 that investigators for the inspector general, Michael E. Horowitz, "uncovered errors and omissions in documents" relating to the Page wiretap, and Horowitz has referred his investigative findings against Clinesmith for possible criminal charges. The Horowitz report into the Russia investigation's beginnings has not yet been released, however.
Clinesmith, who resigned about two months ago, exited the Russia investigation in 2018 after it emerged that he had written text messages showing dislike of Trump, The Times reported. However, the newspaper added that some top FBI officials, including former FBI Director James Comey, were not accused of anti-Trump bias in the new report. The Times reported that Clinesmith is accused of adding information to an email in a way that made it appear the information came from its author.
It's not the first time that Clinesmith's name has surfaced in connection with possible anti-Trump bias. In 2018, GOP Congressman Mark Meadows publicly accused Clinesmith of possibly being an FBI lawyer described in the inspector general's earlier report into the Clinton email investigation as writing anti-Trump messages, including one that declared "viva le resistance." The Times confirmed on November 22, 2019, that Clinesmith wrote those texts, saying that Horowitz's 2018 report "identified him as "F.B.I. Attorney 2."
Ex-FBI Lawyer to Plead Guilty in John Durham Probe for Falsifying Document Used to Investigate Trump Campaign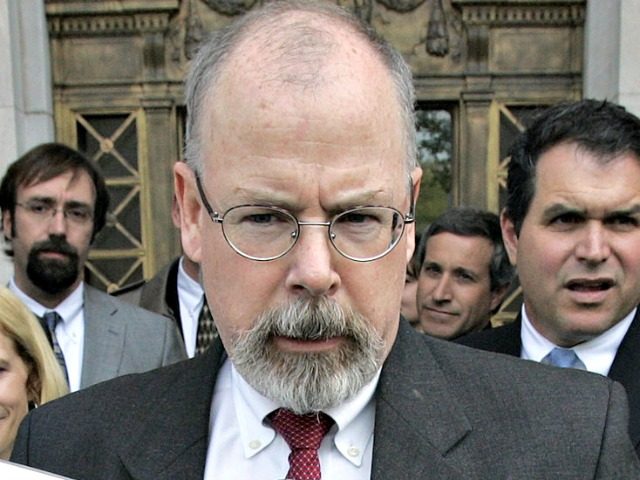 Kevin Clinesmith, a former Federal Bureau of Investigations lawyer, will plead guilty to a felony count for falsifying an email that was used to obtain a wiretap on Trump campaign aide Carter Page, according to court documents.
Clinesmith, 38, was an Assistant General Counsel in the National Security and Cyber Law Branch of the FBI's General Counsel, and was assigned to provide legal support for the FBI's investigation into the Trump campaign for alleged collusion, known as Crossfire Hurricane.
Part of his job was to help FBI agents working on the investigation prepare Foreign Intelligence Surveillance Act (FISA) applications to present to the Foreign Intelligence Surveillance Court (FISC) to obtain wiretaps warrants.
He helped them obtain four warrants to wiretap Page on the basis that he might be a Russian agent.
According to court documents, the CIA in August 2016 had told "certain members" of the investigating team that Page — rather than being a Russian agent — was approved as an "operational contact" for the agency from 2008 to 2013, but that information was never added to any surveillance warrant applications.
Before the fourth application, an FBI Supervisory Special Agent (SSA) asked Clinesmith to ask the CIA whether Page had ever been a source for the CIA.
Clinesmith sent an email to the CIA on June 15, 2017, asking if Page had been a source. Later that same day, a CIA liaison responded with documents that included the previously sent information and indicated Page had been a source. Clinesmith responded, "Thanks so much for that information."
However, when the SSA texted Clinesmith and asked for a follow up on the question about Page, Clinesmith responded that Page "was never a source."
The SSA asked if Clinesmith had that in writing, and Clinesmith said he did and would forward an email from the CIA liaison.
Clinesmith then, from his office at the Hoover Building, forwarded the liaison's email to the SSA, but with alterations to falsely indicate that the liaison had told him that Page was not a source for the CIA.
Clinesmith added the words "and not a source" into the liaison's email to him before forwarding it to the SSA, a material change of a document used for a federal investigation.
Relying on Clinesmith's altered email, the SSA signed and submitted the fourth wiretap application to the FISC on June 29, 2017, for the fourth warrant on Page.